What can we do for you? II – Our Products
aquaBENOVA – the hardware
Contaminated drinking and processing water? aquaBENOVA offers technical solutions as needed!
Our disinfectant aquaBENOVA-CLEAN is certified and in accordance with the requirements of the TVO (drinking water ordinance). It cleans your drinking and processing water reliably of all legionella and coliform bacteria. Even more so: small dosages – measured exactly to the actual water demand and injected repeatedly and regularly into the pipeline network – will keep unhealthy bacteria away from your water permanently! This injection process offers you safeness at a reasonable price. And every time the biocide has done its job, it disintegrates completely into its components which pose no threat whatsoever to your health.
Small, mobile and efficient – aquaBENOVA I
The clever replenishing reservoir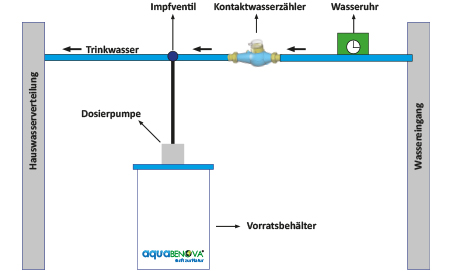 For a usage of up to 250 m³ per month
aquaBENOVA I: We recommend this versatile and cost efficient system for weekend residences (especially those in the South with its own cistern), small companies and community buildings such as sports and utility halls. Furthermore it is ideal for boats, recreational vehicles and public events of all kinds.
Big, stationary and productive – aquaBENOVA II
Produces aquaBENOVA Clean right where you are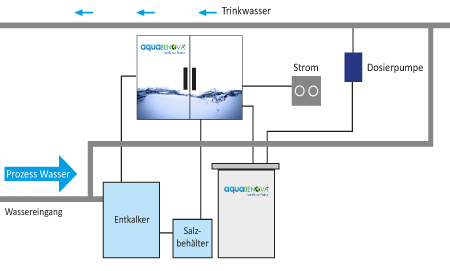 For a usage of 250 m³ and up per month
aquaBENOVA II is installed directly at your premises and produces our disinfectant in the required amount on site. It's perfect for large hotels, hospitals, large-scale catering sectors, nursing homes, schools, airports, public swimming pools, waterworks, purification plants etc.